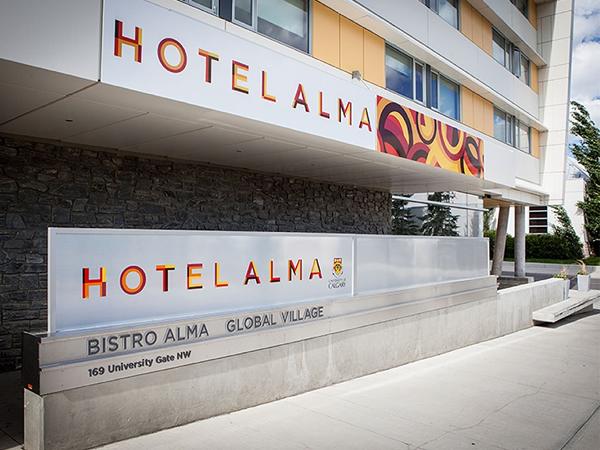 Created by Goldray Glass, the signage features both the Hotel Alma logo and the distinctive trademark pattern.
When travelling to a new city, whether for work or leisure, choosing a hotel is usually first on your list, but with so many options to choose from, it can be difficult for one to stand out from the crowd.
How can a new hotel succeed in a highly competitive hospitality market? This was the challenge facing the University of Calgary when building the first on-campus hotel in Canada, Hotel Alma.
The building was designed by Toronto's Baird Sampson Neuert Architects and Calgary based architect's Riddell Kurczaba with a modern European feel in mind. However, once construction started, the property didn't have a name or a defining brand.
That's where the team of branding and communications experts at Calgary's Frank Design Strategy came in. Their goal was to create a fresh, distinctive brand that would make the property instantly recognizable and differentiate it from competitors.
This strategy started with the hotel's name and was diffused to all areas where consumers would interact with the brand.
The name, Hotel Alma, was evolved from the collegiate term "alma mater" which served to link the hotel to…